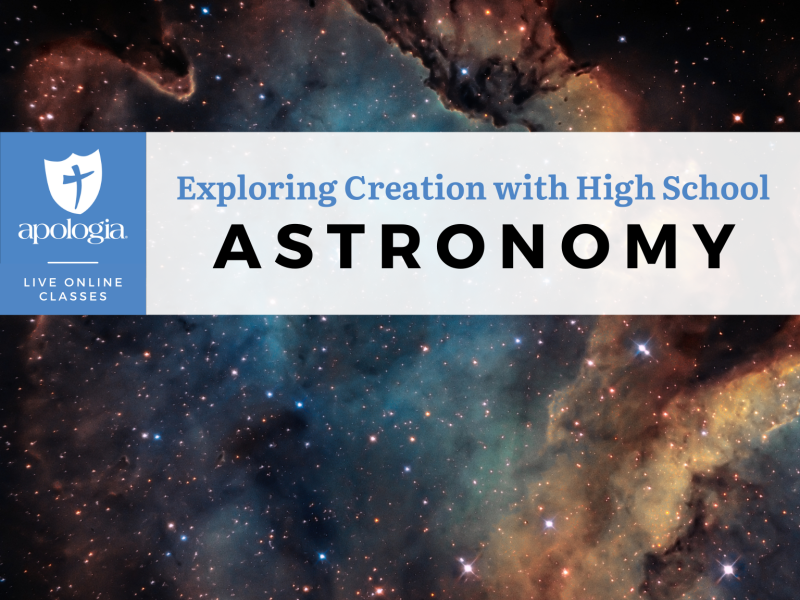 *EXPLORING CREATION with High School Astronomy - Elective
with Rev. Larry Blythe
$63500
*Easy Payment Plans: +-$75/month *(details below)
Grade Recommendation: High School 9-12th
Teacher-Led & Graded by Larry Blythe, M.A.A.
Live Class: Weekly MONDAYS 11:30 AM -12:30 PM ET,

or

Flexible Recorded/Graded Option: Day/time does not work for you? Register Anyway for this LIVE class. Notify your teacher that you will watch the recorded class within a day or two of the LIVE class and meet all live class deadlines.
Course Dates: August 21, 2023-May 2, 2024
Cost: $635 (+$55 registration fee, not refundable)
Discounts: PROMO CODES HERE
Instructor email: MrBlythe@Apologia.com 
More Information:
Prerequisites: None (math is optional)
This course is specifically titled "Exploring CREATION..." This course is meant to be and introduction only - a starting point to a biblical view of the universe. Amazing truths are waiting to be discovered if only the shackles of secular thinking are removed. Prepare for this journey of discovery...
You will be learning how to defend the Masterful Design of the Universe by a Timeless, Spaceless, Immaterial Being - God and how every observable thing in the Cosmos absolutely and thunderously shouts unmistakable design and original creation.
Notes: Having trouble entering your non-USA address?
Summary: This course is designed as an elective course for high school students in 9th – 12th grades. Trusting in the providence of our God, Exploring Creation with High School Astronomy uses the scientific and mathematical constants of the universe to reveal the beauty of God's amazing creation of the universe thousands of years ago. This course is authored by Damian R. Ludwiczak who is the Chief of the Mechanisms and Tribology Branch at NASA Glenn Research Center.
*See "Payment plan available" below for the current estimated schedule & payments. Your totals may vary.
Payment plan available: $75 deposit plus 4 payments of $140.00, paid weekly.
Aug

21st

,

2023

-

May

8th

,

2024

Mon

for

30 weeks

from

11:30 am - 12:30 pm

Will run
Online Class
For more info, call us at 1-765-608-3280