Filter by Category
M4 Algebra 2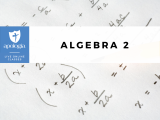 Registration Unavailable
Algebra 2/Live
with Mrs. Katie Pennington

Aug 21, 2023 at 11:30 am

, runs for 32 weeks
*Easy Payment Plans: +-$73/month *(details below)
Grade Recommendation: 10th-12th
Teacher-Led & Graded by Katie Pennington, B.A. Natural Sciences/Mathematics:
Live Class: Twice-Weekly Mon & Wed 11:30 AM - 12:15 PM ET, or
Flexible Recorded/Graded Option: Day/time does not work for you? Register Anyway for this LIVE class. Notify your teacher that you will watch the recorded class within a day or two of the LIVE class and meet all live class deadlines.
Course Dates: August 21/23, 2023 - May 3, 2024
Cost: $635 (+$55 registration fee, not refundable)
Discounts: PROMO CODES HERE
Instructor email: MrsPennington@Apologia.com
More Information: Prerequisite: Algebra 1  Class description & teacher bio
Notes: Having trouble entering your non-USA address?
Summary: Algebra 2 covers concepts such as linear, quadratic, polynomial, quadratic, and rational functions. Trigonometry is also covered, along with probability and statisitics. This class will solidify all of the concepts learned in Algebra 1, as well as prepare each student for higher level math. 
*See "Payment plan available" below for the current estimated schedule & payments. Your totals may vary.