Filter by Category
5. Advanced Biology: The Human Body, 2nd Ed.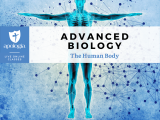 Advanced Biology: The Human Body, 2nd Ed.
with Mrs. Loisann Fowler

Aug 22, 2023 at 11 am

, runs for 32 weeks
*Easy Payment Plans: +-$73/month *(details below)
This Live course uses the 2nd Ed. of Exploring Creation with Advanced Biology: The Human Body
Grade Recommendation: 11th-12th (must have Biology & Chemistry)
Teacher-Led & Graded by Loisann Fowler, B.S.:
Live Class: Weekly TUESDAYS 11:00 AM - 12:30 PM ET, or

Flexible Recorded/Graded Option: Day/time does not work for you? Register Anyway for this LIVE class. Notify your teacher that you will watch the recorded class within a day or two of the LIVE class and meet all live class deadlines.
Course Dates: August 22, 2023-May 9, 2024
Cost: $635 (+$55 registration fee, not refundable)
Discounts: PROMO CODES HERE
Instructor email: MrsFowler@Apologia.com 
More Information: Prerequisites include Biology and Chemistry. Class description & teacher bio
Notes: Having trouble entering your non-USA address?
Summary: This is a college-prep course that provides an advanced study of the human body's 11 organ systems. Honors course.
*See "Payment plan available" below for the current estimated schedule & payments. Your totals may vary.
Payment plan available: $75 deposit plus 10 payments of $56.00, paid every two weeks.
Will run